LOOKING UP
INTERNATIONAL AUTISM NEWSLETTER
16-PAGE URDU PDF EDITION
---
The

new 16-page Urdu PDF edition

of the international autism newsletter Looking Up consists of

selected articles, with additional colour

, from the full monthly 40-page English print edition, translated into Urdu, starting with

Volume 5, Number 1

. The PDF edition is also available in several other languages including Hindi.

You can use your credit card to purchase issues of the Urdu PDF Edition of Looking Up using Google's secure online payment system, Google Checkout.

The price given is in pounds sterling, but Google Checkout should give you an estimate for the cost in your local currency before you finish your purchase.

Until further notice, we will donate to the DEC Pakistan Floods Appeal 5 percent of all payments received by us for issues of the Looking Up, Urdu PDF edition.
Looking Up, Urdu PDF Edition

Volume 5, Number 1


See cover and contents
Price
£1.15 GBP
Use the following button to pay by credit card
using Google's secure payment system


Below is the front cover of the current issue. Click on the cover to obtain a PDF file of the first two pages of this issue (front cover and contents).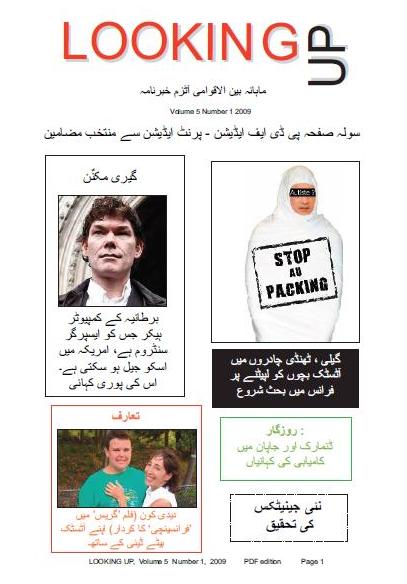 Our address is: Looking Up, PO Box 25727, London, SW19 1WF, England.
For general enquiries, our e-mail address is info@lookingupautism.org
TEL: (London, England) (0)20-8542 7702
FAX: (England) (0)870-0521548
---
Search our autism pages
Privacy
We use third-party advertising companies to serve ads when you visit our website. These companies may use information (not including your name, address, email address or telephone number) about your visits to this and other websites in order to provide advertisements about goods and services of interest to you. If you would like more information about this practice and would like to know your options in relation to·not having this information used by these companies, click here.
Copyright declaration
Materials available from these web pages are copyright © AFPublications.org unless otherwise stated.