VOLUME 5 NUMBER 8, 2012, 40-page Print Edition
See contents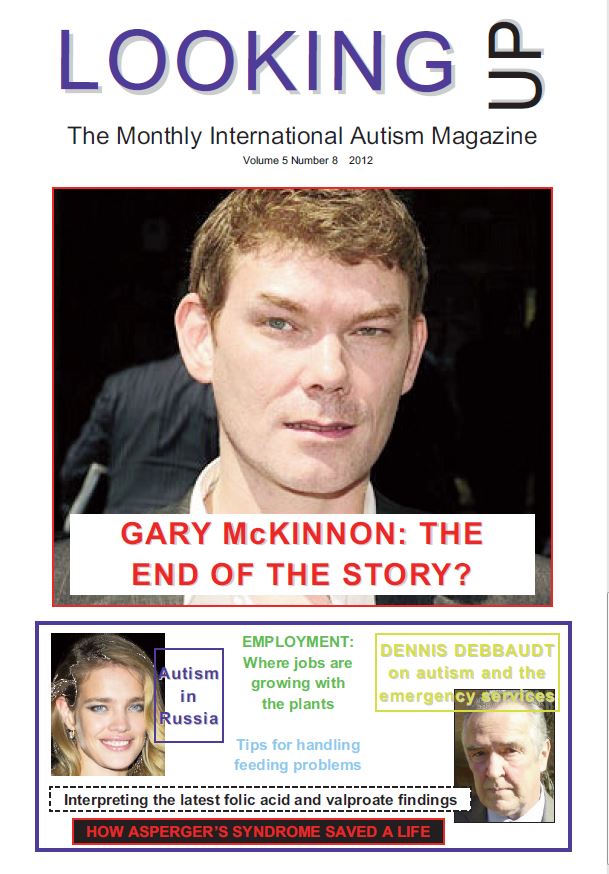 AUTISM AND THE EMERGENCY SERVICES:
Police who handcuffed autistic boy fight ruling against them

Autistic teenager wrongly taken for drunk
Spanish firemen to the rescue - thanks for autism course

DENNIS DEBBAUDT, the world's leading authority on training the emergency services to recognise and understand autism, tells

Looking Up

about some of the latest developments

GARY McKINNON: THE END OF THE STORY?
RESEARCH NEWS:
Use of folic acid linked to lower risk of autism
Hopeful results from language study

New valproate exposure finding

Timing within sections of brain's 'orchestra' is off in autism

Over-active brain region 'hinders social interaction'
Scientists identify genetic mutation that may underlie autistic behaviours
Could some girls be 'protected' from risks of autism?

Experts urge caution over 'recovery' study
AROUND THE GLOBE:
How Asperger's syndrome saved a life

Italian police arrest autism 'curer'

Japanese court reduces jail term of killer with Asperger's syndrome

Tapas

for autism - an appetising way to raise funds for autism in Zaragoza

Epic walk for autism in China

AUTISM IN RUSSIA:
Battle is still being waged against social stigma

A very 'special' school
THE WORLD ACCORDING TO MONIQUE: Monique Post on 'Unexpected lessons'
FEEDING PROBLEMS IN AUTISM: Handy tips on how to deal with complex eaters
EMPLOYMENT: How jobs are growing with the plants
Search our autism pages
Privacy
We use third-party advertising companies to serve ads when you visit our website. These companies may use information (not including your name, address, email address or telephone number) about your visits to this and other websites in order to provide advertisements about goods and services of interest to you. If you would like more information about this practice and would like to know your options in relation to·not having this information used by these companies, click here.
Copyright declaration
Materials available from these web pages are copyright © AFPublications.org unless otherwise stated.