VOLUME 5 NUMBER 1, 2009, Print Edition
Contents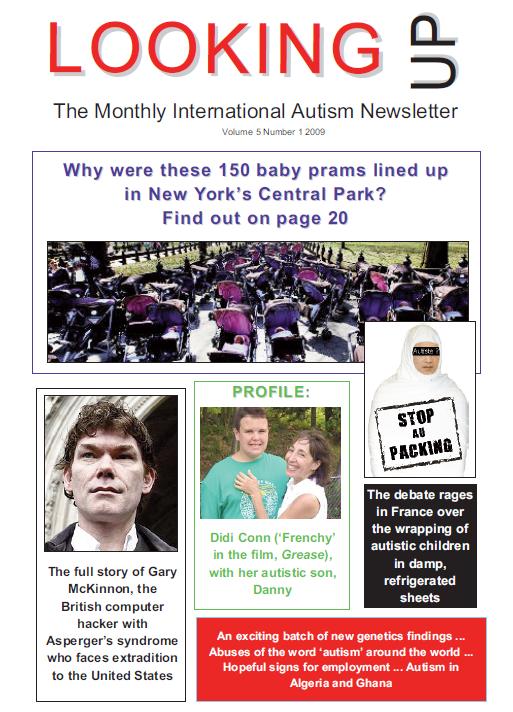 RESEARCH - We take a look behind the stories:
AROUND THE GLOBE:
Mother sues teacher shown slapping autistic boy on YouTube
Autistic teenager fools airline executives with his pose as tycoonke
Outraged French parents condemn 'le packing; (the wrapping of autistic children in damp, refrigerated sheets): Temple Grandin gives Looking Up her views
Abuse of word 'autism' banned in Portuguese Parliament - but we show that such misuses are still rife elsewhere in the world
New Chinese autism organisation founded: its director speaks to Looking Up in Beijing
THE GARY McKINNON AFFAIR: Britain agrees to extradite hacker with Asperger's syndrome to the US. We look at the full story - and speak to Professor Simon Baron-Cohen, who confirmed McKinnon's diagnosis of Asperger's in 2008
LOOKING BACK: We take an in-depth analysis of the remarkable global celebrations of World Autism Awareness Day, from the United States and Canada to Britain, Ireland, France, India, Qatar, Brunei, Turkey and Cameroon.
EMPLOYMENT:
Successful Danish firm expected to open branch in Scotland: its director, Thorkil Sonne, tells Looking Up about his plans
Man with Asperger's syndrome wins case for unfair dismissal
Autism and wine-making - a natural fit in Japan
From rags to riches: meet the 29-year-old woman with autism in Grand Rapids, Wyoming, who runs a successful rags company
AUTISM IN AFRICA:
Algeria: 'Just where are autistic children in Algiers?' PLUS: The Algerian film-maker, Jean-Pierre Lledo, on the documentary he made about autism
Ghana: A country where autism is still not considered a disability
AUTISM AND THE ARTS:
'Don't give up,' says first-time novelist
Autistic playwright needs funding
PROFILE: Didi Conn ('Frenchy' in the 1978 hit musical, Grease) and her autistic son, Danny
LETTERS: 'Let's follow Mark Twain's credo'
'My grandson, the champion escape artist'
'The worst thing is to give up hope'
Search our autism pages
Privacy
We use third-party advertising companies to serve ads when you visit our website. These companies may use information (not including your name, address, email address or telephone number) about your visits to this and other websites in order to provide advertisements about goods and services of interest to you. If you would like more information about this practice and would like to know your options in relation to·not having this information used by these companies, click here.
Copyright declaration
Materials available from these web pages are copyright © AFPublications.org unless otherwise stated.